From face serums and concentrates to skin essences and ampoules, there are so many new skincare treatments available on the market – and it can be difficult to know which to use, as well as why and how. In this 'essence vs serum' guide, we explore what essence for skin is, what a serum is, how the two differ, and why both can benefit your skin.
Essence vs serum: What's the difference?
What is essence for skin?
Skin essences are water-based, lightweight formulas infused with moderate concentrations of key ingredients, such as Vitamin C or hyaluronic acid.
What does essence do for skin?
 Designed to be used daily after cleansing and toning, skin essence largely serves to rehydrate and rebalance, helping to improve the appearance of skin's overall health. Essence also prepares the skin for the next step of your routine, helping serums and moisturizers to work more effectively.
What is serum concentrate?
Slightly thicker in texture than skin essence and more concentrated, both face serums and concentrates boast powerful formulas infused with multiple key ingredients that support the appearance of healthy-looking skin.
What does serum do for skin?
Face serums and concentrates go beyond just hydrating the skin. As they contain small molecules, their lightweight formulas can penetrate the surface layers of skin and target the appearance of specific skin concerns, including fine lines, wrinkles, lack of firmness, dullness, and more.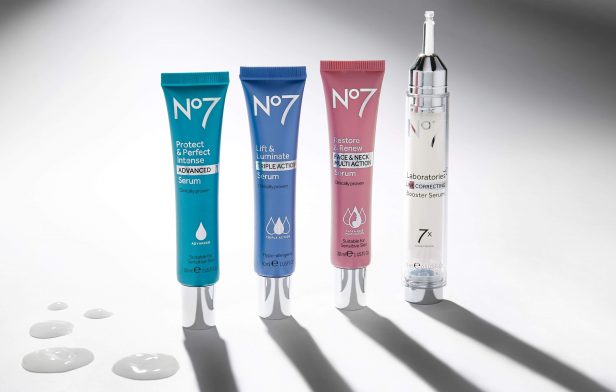 Applied before your moisturizer, serums are fast-absorbing, power-packed formulas that easily penetrate skin to directly deliver anti-aging benefits.
How to apply essence: Serum or essence first?
Skin essence should be applied after cleansing and toning, but before serum or moisturizer. To correctly layer your skincare, follow the guide below:
Step 1: Cleanse and tone the face with your favorite No7 products
Step 2: Massage in 3-5 drops of skin essence with the fingertips, covering the face and neck
Step 3: Smooth on 1-2 drops of serum concentrate
Step 4: Apply a peppercorn-sized drop of face serum and smooth onto the skin and neck
Step 5: Follow with a No7 Day or Night Cream and gently massage outwards and upwards
Skincare tip: Wait 90 seconds between each application to allow absorption and avoid piling.
Shop No7 skin essences, concentrates and face serums
To add an extra hydrating step into your skincare routine or target specific skin concerns, explore our range of skin essences and concentrates below.
Vitamin C essence
No7 Youthful Vitamin C Fresh Radiance Essence is a 2-week treatment infused with 5% pure Vitamin C, a key antioxidant. This product supports the skin's natural renewal process and promotes a healthy glow. By freshly activating the essence at home, the Vitamin C remains at its most powerful for maximum skincare benefits.
Apply 3-5 drops morning and evening after cleansing and toning. After 2 weeks of daily use, skin looks brighter, more evenly toned, and skin texture feels improved. Continue to use any remaining product for up to 1 month after activation.