Skincare experts always recommend applying both serum and moisturizer as part of a healthy skincare routine – but what exactly is the difference between serum and moisturizer? Are both really needed? And if so, should serum be applied before or after moisturizer? We answer all of the above in our 'serum vs moisturizer' guide.
What is a serum?
A serum is a lightweight, highly concentrated formula infused with key ingredients that target specific skin concerns. As serums contain smaller molecules than moisturizers, their formulas can penetrate the skin's surface and support the feel of healthy skin.
What is a moisturizer?
Known as emollients, moisturizers are designed to keep the skin's outermost surface (the stratum corneum) hydrated. They form a protective barrier over the skin's surface, helping to prevent moisture loss and shield against environmental stressors.
What is the difference between a serum and a moisturizer?
Serums penetrate the skin's surface up to 10 layers deep, targeting the appearance of damage, while moisturizers (which have larger molecules) affect only the surface layer, helping to lock in hydration and create a shield against external stressors that can exacerbate existing skin concerns.
Should you apply a serum before or after a moisturizer?
Serum should be applied after cleansing and toning but before moisturizing.
As moisturizer forms a barrier over the skin's surface, applying serum after moisturizer would prevent the ingredients in the serum from penetrating into the skin. However, applying moisturizer on top of serum helps to lock in its key ingredients.
How to choose the best face serum
When it comes to choosing the best face serum, opt for ingredients tailored to your specific skin concern. Vitamin C serum, for example, is perfect for dull skin, while hyaluronic acid is particularly beneficial for dry skin.
We've created a helpful guide to finding the best face serum for you: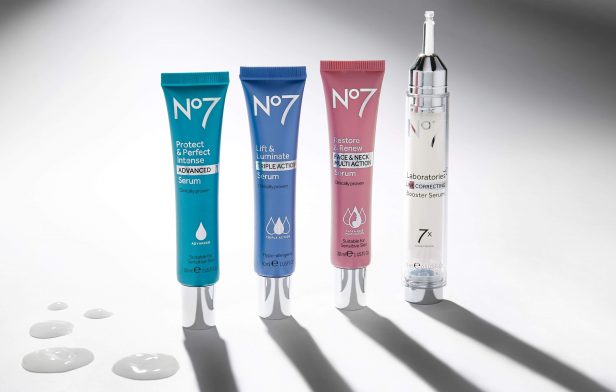 Applied before your moisturizer, serums are fast-absorbing, power-packed formulas that easily penetrate skin to directly deliver anti-aging benefits.
How to choose the best moisturizer
Moisturizers aren't just intended for dry skin. All skin types can benefit from a good moisturizer, provided the right textures and formulas are applied.
Dry skin requires a richer gel-cream that helps to prevent water loss, while oily skin needs an oil-free face cream that hydrates and helps to balance sebum, and mature skin can benefit from a rich moisturizer that targets the key signs of aging. Read our guide below to find the best moisturizer for your skin type:
Take the No7 Challenge
We're so confident in the quality of our products that we guarantee you'll love the results – or we'll give you your money back. See https://us.no7beauty.com/no7challenge.list for details.