Collagen peptides are an effective anti-aging skincare ingredient suitable for all skin types, including sensitive, dry and acne-prone skin. With many options from No7 to choose from, peptides for skin can easily be incorporated into your daily skincare routine.
Read on to discover how collagen peptide benefits the skin, as we explain what peptides in skincare are and introduce you to the best peptide skincare for a healthy, younger-looking complexion.
What are peptides?
Peptides, also known as polypeptides, are small chains of amino acids that form the building blocks for proteins like collagen and elastin. These proteins are naturally found within the skin and act as the foundations responsible for skin's texture, tone and elasticity.
However, with age, their production depletes, with 1% of the skin's collagen lost every year after the age of 30. This decrease contributes towards a loss of firmness, the deepening of wrinkles, and less 'bounce' in the skin.
What do peptides do?
Peptides support collagen and elastin production in the skin, two proteins that help the skin look and act younger. With continued use, peptides in skincare encourage a firmer, smoother and plumper appearance for healthy-looking, supple skin.
Smooth fine lines and wrinkles
Peptides may help support the skin's natural collagen to reduce the appearance of fine lines and make the skin appear firmer.
From causes to treatment, discover how to get rid of smile lines.
Increase skin firmness
A key structural protein in the skin, collagen helps to maintain a taut and elastic feel.
Improve the skin barrier
Peptides work to help the skin feel strengthened. Polypeptides also have antioxidant properties.
How to add collagen peptides into your skincare routine
Applying peptide skincare that has prolonged contact with the skin, including serums, eye creams, boosters and moisturizers, allows for best results.
Boost the skin with a peptide booster
for a smoother, more supple looking complexion in 4 weeks*, No7's Advanced Ingredients Ceramide & Peptide Capsules deliver a targeted dose of firming peptides, combined with a skin nourishing ceramide. The encapsulated ingredients remain fresh until opened and are 95% plant-based capsule material.
How to apply: After cleansing the face with your favourite No7 cleanser, twist the neck of the capsule and squeeze onto the fingertips to smooth the product over the face.
*Based on consumer perception and clinical evaluation.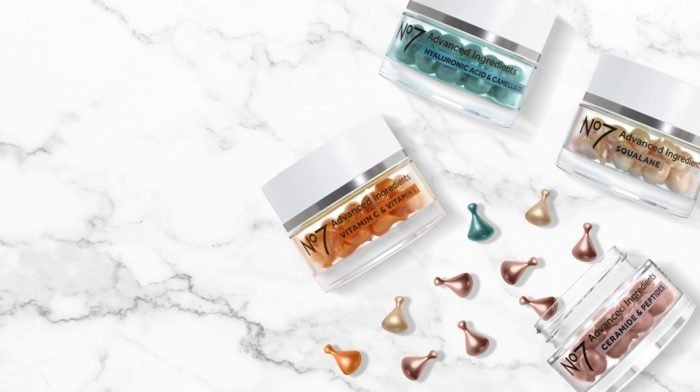 Skincare capsules deliver a single dose of nourishing ingredients to target your skin's individual needs.
Apply a peptide serum
No7's Restore & Renew Face and Neck Serum is the best peptide serum for mature skin. It's formulated with age-defying collagen peptides that penetrate skin's surface layers to reveal younger-looking skin. It's also infused with a blend of hibiscus peptides and hyaluronic acid to help deliver firmer-looking skin, while pro-retinol supports skin's renewal process to help reduce the appearance of signs of aging. After 2 weeks, skin looks revitalized, lines & wrinkles appear reduced, the neck feels firmer, and the face looks lifted*.
How to apply: Using a pea sized amount, smooth the peptide serum onto the face and neck in upwards motions.
*Based on consumer perception study.