2020 was a challenging year for everyone, but women have been disproportionately affected by the pandemic and resulting lifestyle changes. 
During the last year, in what is being labelled the 'SHEcession', 5 million jobs were lost – with four times more women than men leaving their jobs. Women were also three times more likely to sacrifice their career for family.* These revelations put us in danger of reversing the incredible work that has been done over the last few decades to defy stereotypes and ensure that women make strides in their careers. 
Regardless of the setbacks, things are looking up – we recently welcomed the first ever female Vice President, there are now 144 women in Congress and the FORTUNE 500 is now represented by more female CEOs than ever before. 
We stand ready to create a SHEcovery from this SHEcession and help women to feel empowered, supported and able to find work. That's why we hosted the No7 Unstoppable Together Job Summit. 
What was the No7 Unstoppable Together Job Summit?
We teamed up with FORTUNE, Hello Sunshine and The Female Quotient to host a free, day-long virtual job summit that was open to all women, everywhere. We heard from some of the brightest female minds across various industries, arming women with tips, resources and advice to help them secure the employment they deserve.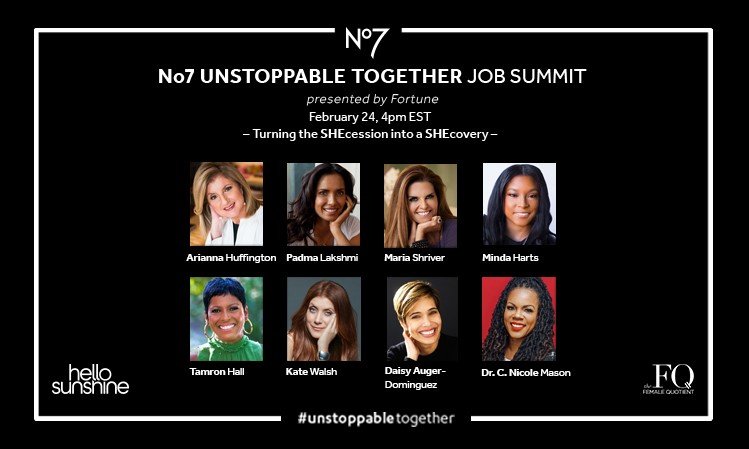 What happened at the No7 Unstoppable Together Job Summit?
We heard from a powerful group of today's most inspiring female thought leaders who provided guidance to help women get back into the workforce. Speakers included: 
 

Arianna Huffington

 – 

F

ounder and CEO of Thrive Global, and 

F

ounder of The Huffington Post

 

Dr. C. Nicole Mason

 – President and CEO of the Institute for Women's Policy Research (IWPR)

 

Maria Shriver

 – 

A

ward-winning 

j

ournalist and New York Times best-selling author

 

Minda

 Harts

 – 

A

uthor of best

–

selling book, The Memo

 

Padma Lakshmi

 – 

F

ood expert, television produc

er

 and New York Times best-selling author

 

Daisy Auger-Dominguez

 – Chief People Officer at VICE Media Group

 

Mary Dillon

 – CEO of 

Ulta

 Beauty

 

Kate Walsh

 – 

A

ctress

, member of Planned Parenthood's Board of Advocates 

 

Eve 

Rodsky

 – New York Times best-selling author

 of Fair Play

 

Shelley 

Zalis

 – CEO of the Female Quotient

 
Please see below for the full schedule of topics covered and their respective speakers. 
In addition to the speaker series, we offered No7 Unstoppable Together Job Summit attendees one free coaching sessions from The Female Quotient. Covering a variety of topics including interview skills, networking, pivoting careers, and rewriting your job loss story, we armed them with the tools they need to break through the glass ceiling. Attendees will have received an email from [The Female Quotient] following the No7 Unstoppable Together Job Summit with the details on how to sign up for the coaching session. 
 *The Los Angeles Times, Dec. 2020 *United States Census, Aug. 2020 
Welcome/Introduction

4:00PM – 4:13PM EST 

Speakers: 

Shelley Zalis, CEO, The Female Quotient 

Anisha Raghavan, Chief Marketing Officer – Global Brands Americas, No7 

The SHEcession and How We Can Move Towards a SHEcovery

4:13PM – 4:40PM EST 

Speakers: 

Dr. C. Nicole Mason, President and Chief Executive, IWPR 

Michelle King, Author, The Fix: Overcome the Invisible Barriers That Are Holding Women Back at Work 

What Women of Color Need to Know About Securing Your Seat at the Table 

4:40PM – 5:00PM EST 

Speakers: 

Minda Harts, Author, The Memo: What Women of Color Need to Know to Secure a Seat at the Table, and Founder and CEO, The Memo, LLC 

What You See is What You Get: Inspiring Beauty from Within 

5:00PM – 5:20PM EST 

Speakers: 

Anisha Raghavan, Chief Marketing Officer, No7 Beauty Company 

Mary Dillon, CEO, Ulta Beauty 

Aging In: It's Never too Late to Reinvent 

5:20PM – 5:40PM EST 

Speakers: 

Kate Walsh, Actress, Businesswoman, and Founder, Boyfriend 

Maria Shriver, Award-Winning Journalist, Author, and Founder, The Women's Alzheimer's Movement 

Finding Your Path When the Path is Uncertain 

5:40PM – 6:00PM EST 

Speakers: 

Padma Lakshmi, Writer, Television Host and Producer 

Creating Consciousness in Balancing the Workload at Home 

6:00PM – 6:20PM EST 

Speakers: 

Eve Rodsky, Author, Fair Play 

Creating Social Networks to Drive Connection and Change 

6:20PM – 6:50PM 

Speakers: 

Daisy Auger-Dominguez, Chief People Officer, VICE Media Group 

Marissa King, Professor of Organizational Behavior, Yale School of Management 

Hiring Round-Up: Practical Tips to Get Back to Work PLUS Q&A 

6:50PM – 7:20 PM EST 

Speakers: 

Coleen Curtis, Chief Community Officer, The Mom Project 

The Impact of the SHE-cession on Mental Health and How Women Can Be Proactive With Their Health 

7:20PM – 7:50PM EST 

Speakers: 

Arianna Huffington, Founder and CEO, Thrive Global 

Conclusion & Insights 

7:50PM – 8:00PM EST 

Speakers: 

Shelley Zalis, CEO, The Female Quotient 

Anisha Raghavan, Chief Marketing Officer, No7 Beauty Company