Retinol is the buzzword of the moment in the beauty industry; the cult favorite that's gracing the skincare routines of beauty enthusiasts, and getting the stamp of approval from dermatologists – but what is retinol exactly and what does retinol do? Read on to discover the many benefits of retinol for skin and learn how to incorporate retinol serum, eye cream and night cream into your regimen.  
What is retinol?
As derivatives of Vitamin A, retinoids are used to treat a range of skin concerns. They come in a variety of different strengths, with prescription-strength options typically being referred to as retinoids.   
Once applied to the skin, retinol is converted by skin cells into retinoic acid, and it's this conversion process that enables visible improvements to the appearance of skin's texture and condition.  
What does retinol do?
Known as a "holy grail" of anti-aging, retinol is the ingredient to incorporate into your skin care routine if you want to see real results. Retinol benefits the skin by supporting surface skin cells' natural renewal process, making skin's layers feel thicker and enhancing its ability to retain water. It also helps to improve the appearance of fine lines and wrinkles. 
By supporting surface skin cell turnover, retinol helps to smooth skin's texture and reduce the appearance of pores and pigmentation, for a brighter-looking complexion.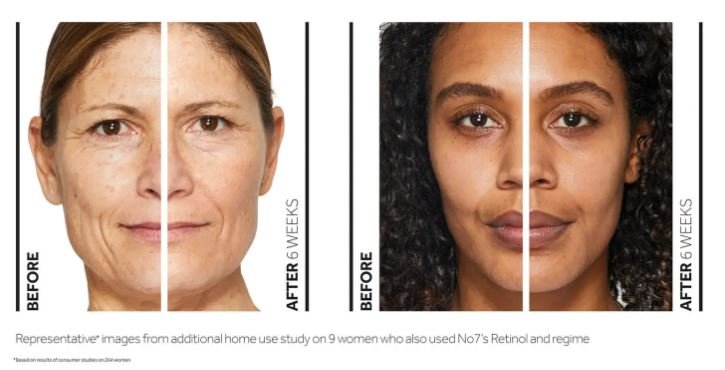 Is retinol safe?
Retinol is perfectly safe – particularly the next-generation retinol complex found in No7's retinol skincare range. Not only is it delivered to the skin in an intelligent, slow-release oil encapsulation that helps reduce the common irritating side effects of retinol, but it's blended with soothing shea butter and bisabolol to be gentler to the skin. 
There are, however, some exceptions. If you're pregnant or breastfeeding, you shouldn't use retinol, as it can be harmful to your unborn baby. It also isn't recommended for those with conditions such as eczema or rosacea, or anyone with extremely sensitive skin. 
What are the side effects of retinol?
If you're using retinol for the first time, you may experience dryness or peeling of the skin over the first few weeks. This is perfectly natural, as skin cell turnover occurs. However, through continued use, these side effects should soon subside.  
As retinol also makes skin sensitive to sunlight, it's advised that you use a daily moisturizer with SPF. 
When and how to use retinol
For the best results, apply retinol at night. This allows the formula to penetrate the surface of the skin while you sleep, supporting cell turnover for a renewed, younger-looking complexion.    
When using retinol for the first time, introduce it into your skincare routine slowly. Apply twice a week for the first month to help prevent irritation and allow skin to become familiar with retinol and its effects. When you're comfortable that your skin is receiving retinol well, and with minimal or no side effects, gradually increase usage to several times per week, building to nightly use.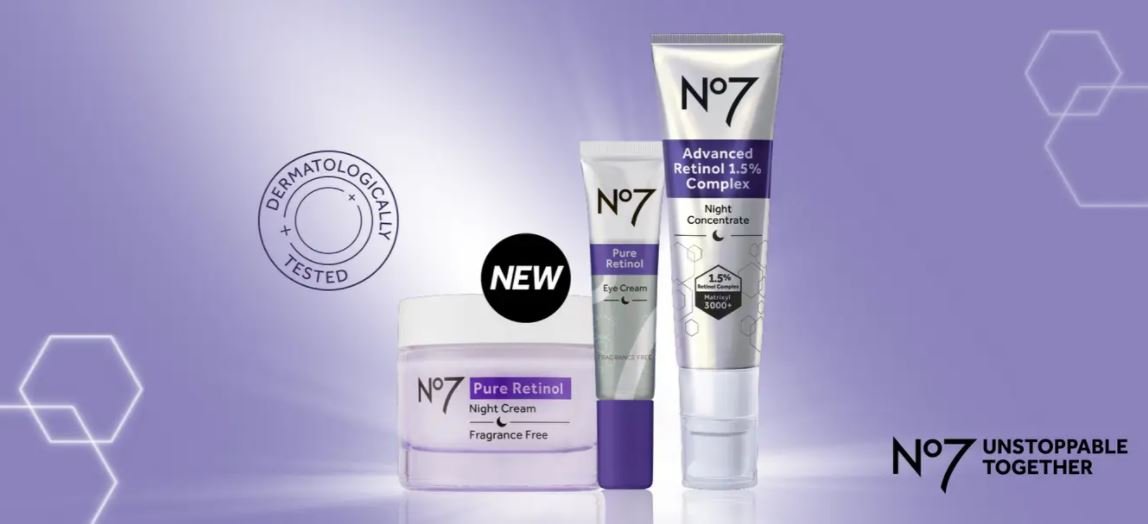 Retinol skincare
: Serum, eye cream and night cream
Retinol night cream
Formulated to be gentler to the skin, No7 Pure Retinol Night Repair Cream combines the power of pure retinol with No7's anti-aging peptide technology, Matrixyl 3000+, and soothing shea butter to help reduce the appearance of fine lines, wrinkles and pores. It delivers this pure retinol in an intelligent, slow-release oil encapsulation that helps to reduce common irritating side effects and is proven to be more effective than retinol derivatives.  
In the evening, massage this retinol night cream in small upward circles over the face and neck after cleansing, toning and applying the No7 Advanced Retinol 1.5% Complex Night Concentrate to wake up to skin that looks and feels younger, firmer, hydrated, and more evenly toned.