A derivative of Vitamin A, retinol is a great addition to any anti-aging skincare routine and is the best cream for deep wrinkles. Read on to discover what retinol night cream is, how to apply it, and how to incorporate the best night cream for aging skin into your skincare routine.
What is retinol cream?
Like a typical night cream, retinol night creams have richer, more emollient textures and are applied in the evening before bed to help rejuvenate the skin.
However, night creams infused with retinol have added benefits, making it one of the best night creams for aging skin.
What does retinol night cream do?
Retinol is a powerful anti-aging ingredient that addresses several skin concerns for healthier, younger-looking skin.
When infused in a night cream, retinol helps to support skin's natural turnover while speeding up the exfoliation process.
Retinol face cream helps to:
Reduce the appearance of fine lines and wrinkles
Smooth the skin's texture
Improve skin's radiance
Reduce the appearance of dark spots and pigmentation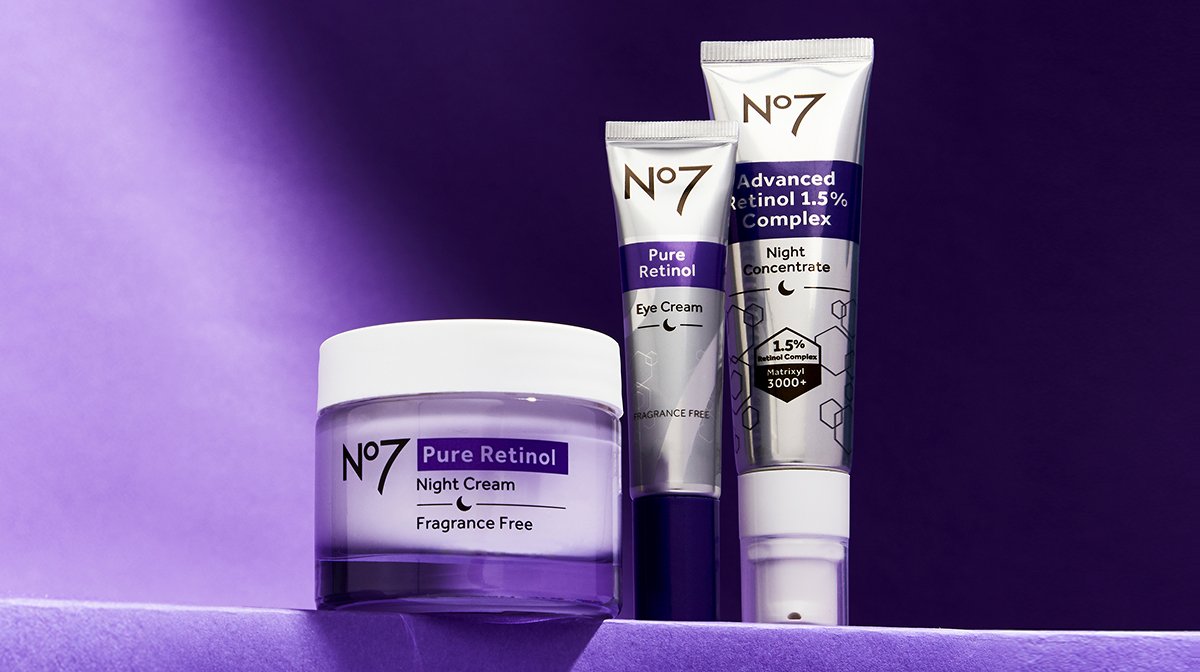 Retinol benefits the skin by encouraging surface skin cell renewal and helping to improve the appearance of fine lines and wrinkles.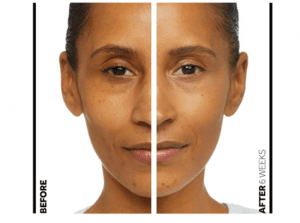 Before and after using No7 Pure Retinol Night Cream continuously for 6 weeks.
Retinol side effects
Due to its potency, retinol skincare can cause side effects such as redness, tightness and peeling.
However, No7's Pure Retinol Night Cream is infused with No7's Retinol Soother (shea butter and bisabolol) to help skin feel soothed and hydrated, helping to minimize the likelihood of these side effects.
Can you use hyaluronic acid with retinol?
Retinol and hyaluronic acid are the perfect pairing and help to balance each other out.
Possible side effects from retinol products such as dryness and irritation can be minimized by the hydrating effects of hyaluronic acid.
Hyaluronic acid before or after retinol?
For best results, retinoid creams should be used first, followed by hyaluronic acid 30 minutes later, allowing the benefits of the retinol to sink into the skin.
 How to apply retinol night cream
Retinol moisturizer can be applied in the same way as a typical night cream, but is advised to only be used in the evening as retinol can cause sensitivity to sunlight.
Step 1: Cleanse the skin with your favorite No7 Cleanser.
Step 2: Apply two pumps of No7 Retinol 1.5% Night Concentrate to the face and neck, avoiding the eye, outer eye and lip areas.
Step 3: Dot No7 Retinol Eye Cream around the eyes and gently blend into the eye contours.
Step 4: Massage a pea-sized amount of No7 Pure Retinol Night Cream in small upward circles over the face and neck.
Step 5: Apply your favorite No7 day cream with SPF the following morning.
 The best retinol cream
The best retinol for wrinkles, No7's Pure Retinol Night Cream is infused with soothing shea butter and bisabolol, delivering the power of pure retinol, while minimizing irritation.
As one of the best retinols for sensitive skin, it's also formulated with No7's collagen peptide technology to reduce the appearance of fine lines and pores.
98% of women agreed skin was instantly moisturized, and after 2 weeks, wrinkles appear smoothed.
*Based on consumer perception study.