Hormonal changes during menopause often cause symptoms like hot flashes, mood changes, and night sweats. However, these hormonal fluctuations can also cause changes to our skin, with menopause and itchy skin often going hand in hand.
Read on to discover how the skin changes with menopause and how to treat prickly, itchy skin with No7's new menopause skincare range. 
Does menopause cause itchy skin?
Prickly, itchy skin during menopause is common. As estrogen levels fall in perimenopause and menopause, the skin's surface layer thickens, reducing skin's natural oil production. This may result in dry, itchy feeling skin, and irritation.
The changing levels of hormones in the body, also reduces the body's ability to retain moisture, worsening the problem – making intense menopause skincare creams and a hydrating skincare regimen essential for healthy-looking skin.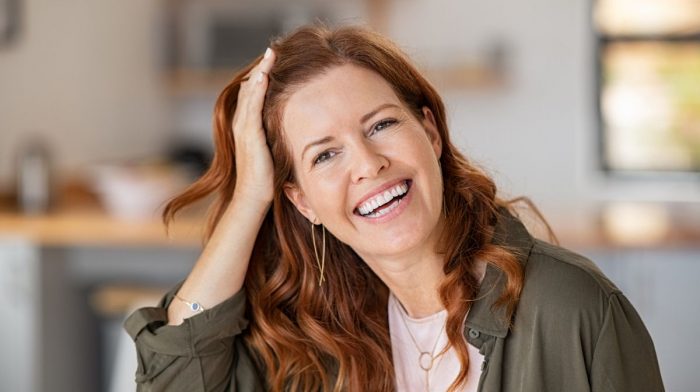 Learn how to manage menopausal skin changes for a revitalized, youthful-looking complexion.
5 tips to soothe dry and itchy menopausal skin
Applying menopause skincare products and making small lifestyle changes can often relieve dry, itchy skin during menopause.
Adopt a soothing and hydrating skincare routine, using gentle skincare for menopausal skin, formulated with key ingredients like ceramides, hyaluronic acid and Vitamin C.
Use lukewarm water when showering or washing the face as hot water can rob the skin of natural oils needed for supple, moisturized skin.
Avoid scratching the skin, and instead use a cooling mist like No7's Menopause Instant Cooling Mist, or gently apply a cool compress.
Opt for fragrance free menopause skin products as heavily fragranced items can cause further irritation.
Apply broad-spectrum SPF daily to avoid further skin damage, that can result in a complexion that feels dry and tight.
Skincare routine for dry and itchy skin from menopause
To look and feel your best, No7's Menopause Skincare range is expertly designed to target visible signs of reduced estrogen and collagen for radiant and replenished-looking skin in just 1 week.
Buy now

with No 7

Formulated with gentle Vitamin C and gently exfoliating particles, No7 Lift & Luminate Dual Action Cleansing Exfoliator helps to support surface skin's natural renewal process while removing impurities and excess oil. Skin tone and texture appear visibly improved, lending skin a brighter and more radiant-looking glow.

How to apply: Morning and night, massage onto a wet face, then rinse to leave skin feeling cleansed and renewed.

Buy now with free delivery