During perimenopause and menopause, you will likely need to navigate a host of new and unfamiliar symptoms, including changes to your complexion. Skincare products that were once reliable and effective may no longer work as well as they used to, as they are not specific to the menopausal skin changes you now face.
From dry, itchy skin to heightened sensitivity, our expert guide will support you through this new stage of life; helping you to manage the most common menopausal skin concerns and rediscover a more radiant-looking complexion.
What is Menopause?
Menopause is the permanent end of a woman's menstrual cycle, which occurs after 12 consecutive months without bleeding, known as 'perimenopause'.
This change is brought on by a decrease in estrogen production, causing the reproductive cycle to slow down, resulting in irregular periods and the eventual end of menstruation.
What is Perimenopause?
Meaning 'around menopause', perimenopause refers to the natural transition before menopause. A time of changing ovarian function, perimenopause sees estrogen levels fluctuate, resulting in irregular periods and symptoms similar to that of menopause.
This phase of a woman's life typically begins in their forties and the transition to menopause takes around four to eight years.
The Signs of Menopause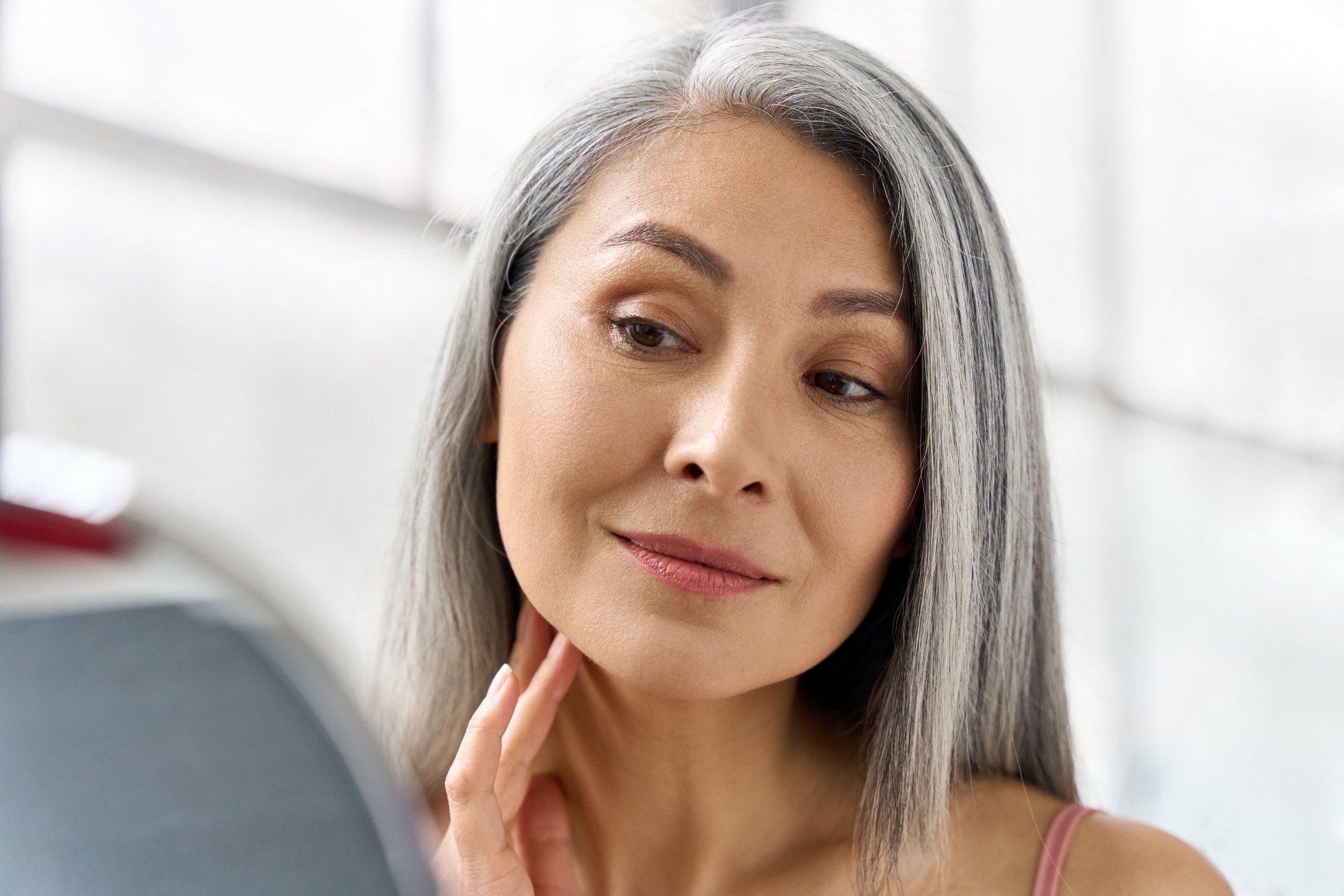 The signs of menopause vary, with symptoms being unique to each woman. Some symptoms may appear suddenly without warning, while others may be mild and less noticeable.
In some cases, the indicators of menopause are very similar to those experienced during premenstrual syndrome (PMS), while others may present a new challenge.
Common menopausal symptoms include:
Hot flushes and night sweats
Loss of libido
Mood changes
No period
Skin changes
Trouble sleeping
Weakened bladder control
Weight gain
If you are experiencing signs of menopause, consult your doctor for advice on how best to manage your symptoms.
When Does Menopause Start?
The median age for women to experience menopause naturally is between 48 and 52 years old.
Studies indicate that the age a woman starts menopause is typically aligned with the age their mother started menopause.
However, various factors could cause menopause to start earlier, including gynecological treatment such as a hysterectomy (removal of the uterus) or bilateral oophorectomy (removal of the ovaries).
How Long Does Menopause Last?
On average, menopause lasts for around seven years. However, the duration can be affected by numerous lifestyle factors, including smoking, race, ethnicity, and the age at which menopause first began. For some, this may result in symptoms being experienced for over a decade.
How Does Menopause Affect Your Skin?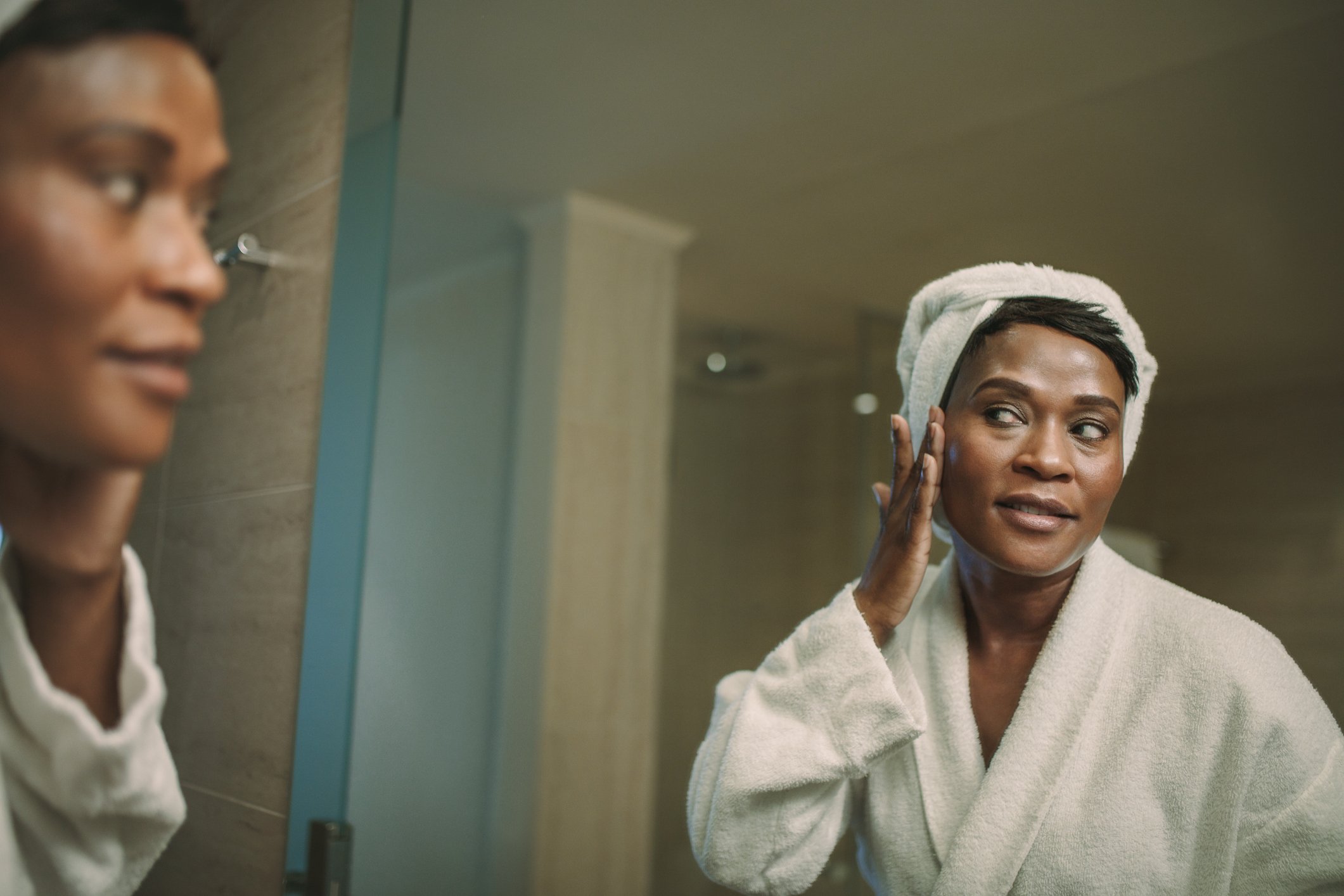 Does menopause age your face? Not directly, but menopause skin changes can sometimes accelerate the signs of aging, resulting in deeper wrinkles and a drier, dull, or less plump appearance.
This is due to the change in estrogen experienced during menopause. Insufficient levels of estrogen are thought to contribute to the signs of aging, alongside impaired wound healing.
Oxidative stress occurs when free radicals react with molecules in the body, which can result in cell damage and consequent aging, but the antioxidant properties of estrogen are thought to help defend against this reaction. However, during menopause, low estrogen levels may increase the risk of free radical cell damage, and the signs of aging may be more apparent.
Some of the main effects of menopause on the skin include:
Fine Lines and Wrinkles
Collagen and elastin are the skin's building blocks, essential to help maintain a more plump, hydrated, and healthy complexion.
The decline in estrogen production experienced during menopause has been found to have a detrimental impact on skin tissue, as collagen is thought to decrease by 30% during the first five years following menopause.
Therefore, it is common to experience the deepening of fine lines and wrinkles and sagging of the skin, especially around delicate areas like the jowls, eyes, and mouth.
Dry Skin
You might be wondering 'does low estrogen cause dry skin?'. And the answer is that menopause and dry skin often go hand in hand.
As estrogen levels fall, the skin's surface layer thins, reducing natural oil production, which may result in a dry, tight feeling.
Oily Skin During Menopause
In contrast to dry skin, another side effect of menopause may be oily skin. Some studies have noted a correlation between increased seborrhea production and menopause.
Given the unique nature of menopause symptoms, oily skin isn't an issue for every woman. However, those with a significant increase in their sebum rate could experience enlarged pores and menopausal acne.
Menopausal Face Dullness
The natural skin cell renewal process . As dead skin cells accumulate on the surface of the complexion, it could leave it looking dull and tired. Combined with menopause-induced dryness, it may appear dull and lackluster.
Increased Sensitivity
The changing hormone levels experienced during menopause are thought to trigger sensitivity in the skin – particularly the face.
Sensitive skin during menopause may be characterized by dryness, itchy skin, rashes, redness, spots, and bumps. These symptoms are often found to be aggravated by the weather, emotions, and certain skin and body care products.
Skincare Routine for Menopausal Skin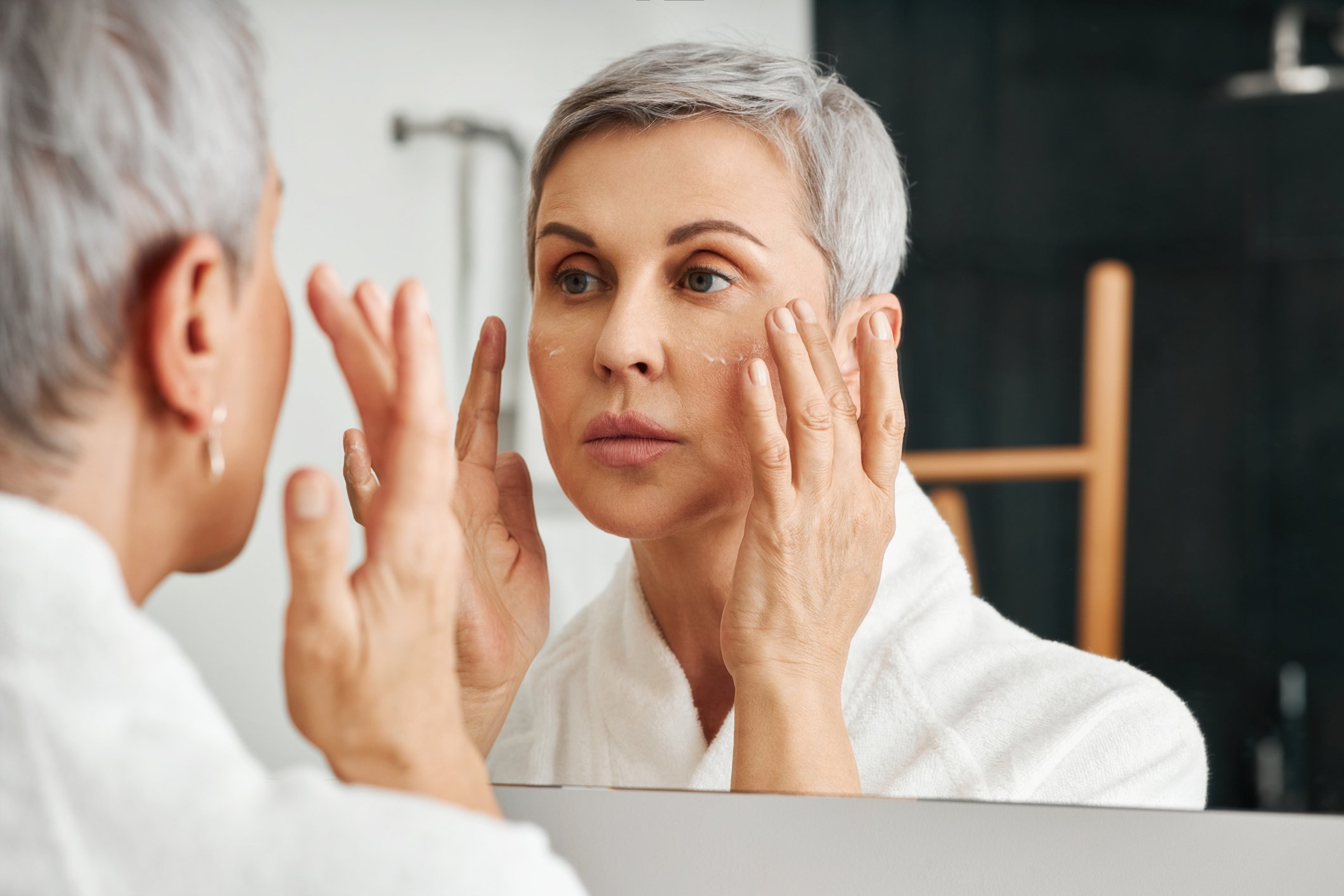 To look and feel your best, No7's Menopause Skincare range is expertly designed to target some of the symptoms of menopausal skin, helping to support radiant and replenished-looking skin.
Step 1: Use a Gentle Exfoliating Cleanser
The No7 Lift & Luminate Dual Action Cleansing Exfoliator is formulated with gentle exfoliating particles and a complex of vitamins C, E, and B5, to help support the surface skin's natural renewal process while assisting with the removal of impurities and excess oil.
With consistent use, skin tone and texture may appear visibly improved, lending skin a brighter and more radiant glow.
How to apply: Massage onto a wet face each morning and night, then rinse to leave skin feeling cleansed and renewed.
Step 2: Apply a Radiance-Boosting Serum
Formulated with nourishing collagen peptide technology, hyaluronic acid, and lipids, No7's Instant Radiance Serum could help to improve the appearance of collagen-depleted skin.
Designed with a cooling applicator for an instant soothing effect, this serum has been designed to target some of the symptoms of accelerated skin aging for a firmer, more radiant-looking face and neck.
How to apply: Apply morning and evening on cleansed or makeup-free skin for an instant cooling sensation.
Step 3: Introduce a Brightening and Firming Eye Cream
Designed with a cooling metal roller applicator, No7's Firm and Bright Eye Concentrate could help to brighten and firm tired-looking eyes that may occur during menopause. Formulated with nourishing niacinamides and ceramides, it may aid in reducing the appearance of dark circles and wrinkles that can form around the eye.
How to apply: Squeeze the tube to prime, then gently glide the product around the contours. Lightly pat and blend any remaining product with your fingers until fully absorbed.