Mascara is a makeup staple and has the power to enhance your eyes more than any other makeup product. From fluttery and softly defined, to lush and long, there's a mascara for every lash look. Read on to discover how to apply mascara and explore No7's mascaras to define the eyes and provide a wide-awake look.
What is mascara for?
The finishing touch to your makeup routine, mascara's main purpose is to enhance the eyes. It not only darkens lashes, but helps to curl, lengthen and volumize for brighter, wider-looking eyes.
What to consider when choosing a mascara
The desired effect
Before choosing a mascara, it's important to decide whether you would like a volumizing, thickening, curling, or lengthening effect. No7 mascaras offer multiple benefits, but each formula is more tailored towards a particular finish.
Mascara brush types
The size and shape of the mascara wand influences the end results of your lashes. Natural brushes are the key to achieving volume and thickness (as they're thicker and apply more product to the lashes), whereas plastic and rubber wands are best for elongating, defining and separating lashes.
The color
Mascara is typically black, as the dark shades adds the most definition to the lash line. However, this can sometimes appear harsh, especially on fairer skin tones. For a more natural and subtle look, try a brown mascara.
How to apply mascara
Step 1: With an eyelash curler, curl the lashes to create a lifting, wide eye effect.
Step 2: Pull the mascara brush out of the tube and wipe off any excess on the side to avoid clumping. Avoid pumping the wand in and out of the tube as this pushes air inside and dries out the formula quicker.
Step 3: Angle the mascara brush horizontally, then apply the mascara to the base of the upper lashes and sweep upwards towards the tips.
Step 4: To help create separation, gently wiggle the brush back and forth, ensuring all lashes are evenly coated.
Step 5: Apply sparingly to the bottom lashes, using just the tip of the brush.
Step 6: If a more volumized look is desired, apply another coat.
Mascara tip: If product has smudged or transferred onto the eye area, allow it to dry and gently remove with a Q-tip and micellar water.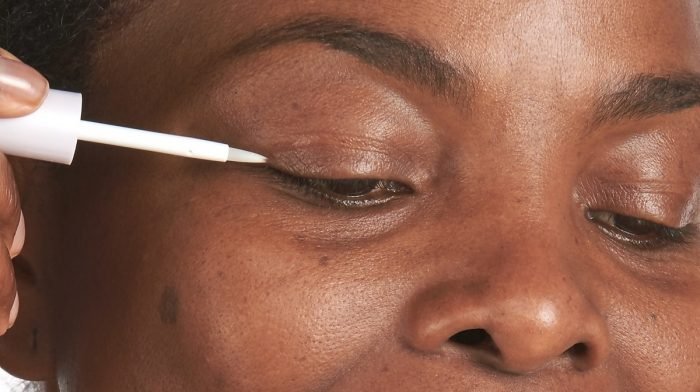 Discover how lash serum works, how to apply it and where to find the best one.
The best mascaras for every lash look
Mascara for length
Perfect for adding length, No7 Lash Extender Mascara is the best mascara for short lashes. The unique formula is enriched with volumizing spheres for that long lash effect, while the Precision Brush with paddle-shaped bristles grips lashes to create definition and deposit the perfect amount of formula to avoid clumps or flaking.