At No7, we're constantly working on the latest skincare innovations to help fight signs of aging. That's why we performed a deep dive* into the most common anti-aging skin concerns in the US, and share expert advice to help you reduce the appearance of wrinkles, dark circles, age spots, and other signs of aging. 
The 8 most common anti-aging skin concerns in the US
Regardless of gender or skin type, there's one skin concern that unites us all: aging. Wrinkles, in particularly, are the biggest aging skin concern for women and men in the US, with searches for lines around the eye, forehead, neck and mouth proving increasingly popular. Signs of aging around the eyes, including dark circles and bags, as well as dark spots and hyperpigmentation are also common.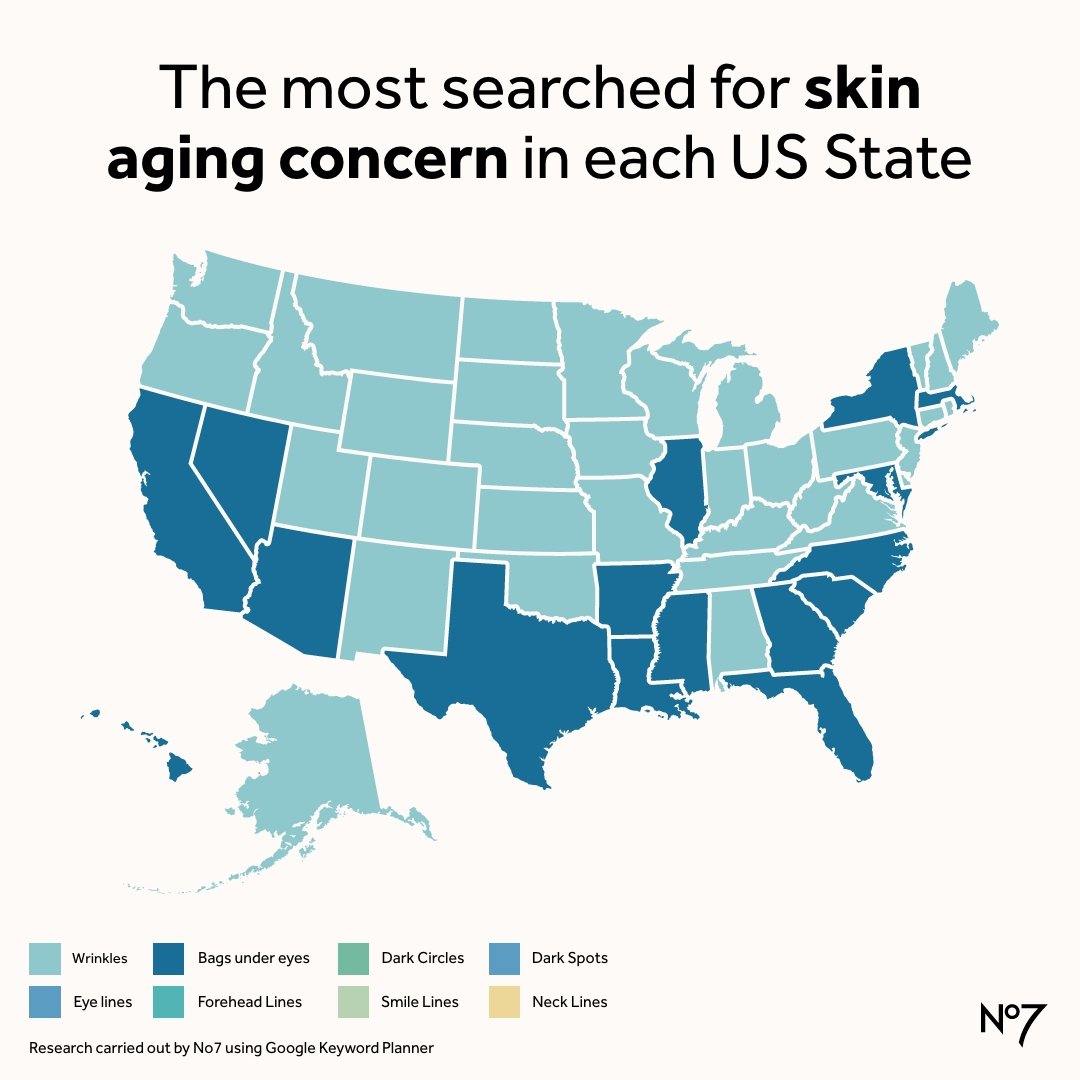 The states most concerned by signs of aging
While a universal process, aging – and the skin-related signs that come with it – trigger varying levels of concerns among American. Vermonters readily search for anti-aging solutions while Alaskans appear to be the least concerned about aging skin.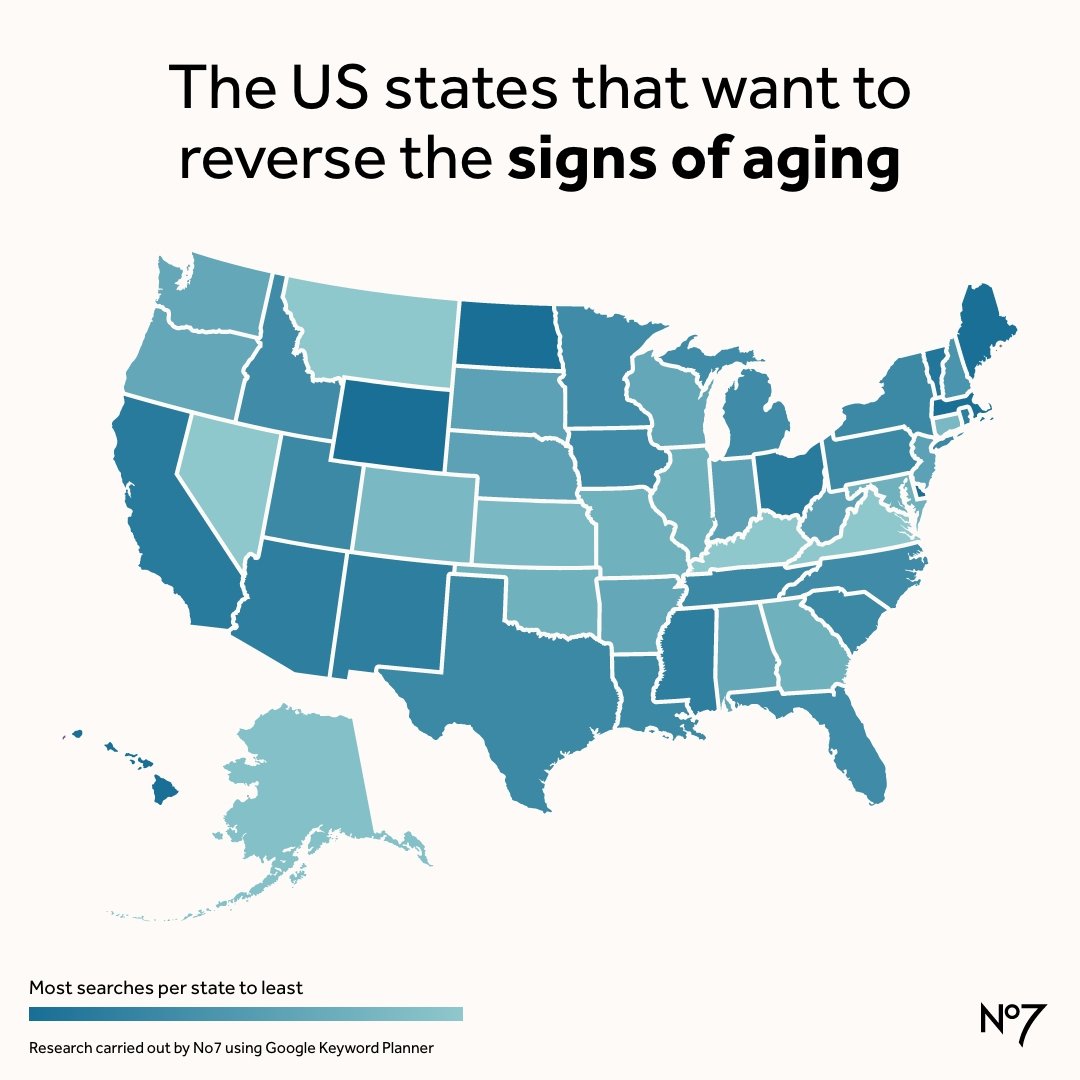 T
he most popular anti-aging products in the US
Face creams and moisturizers are the most sought-after products to help reduce signs of aging, while eye creams and serums are increasingly popular too – and it's understandable why. Finding the right anti-aging skincare products can mean the difference between pronounced wrinkles, dark spots, dark circles, and eye bags, and a bright, youthful-looking complexion with subtle fine lines. 
How to reduce the appearance of signs of aging
Wrinkles
One of the most searched for skincare queries, women across the US are looking to minimize the depth of their wrinkles. While they can't be erased altogether, there are steps that can help to reduce their appearance and prevent fine lines from deepening prematurely.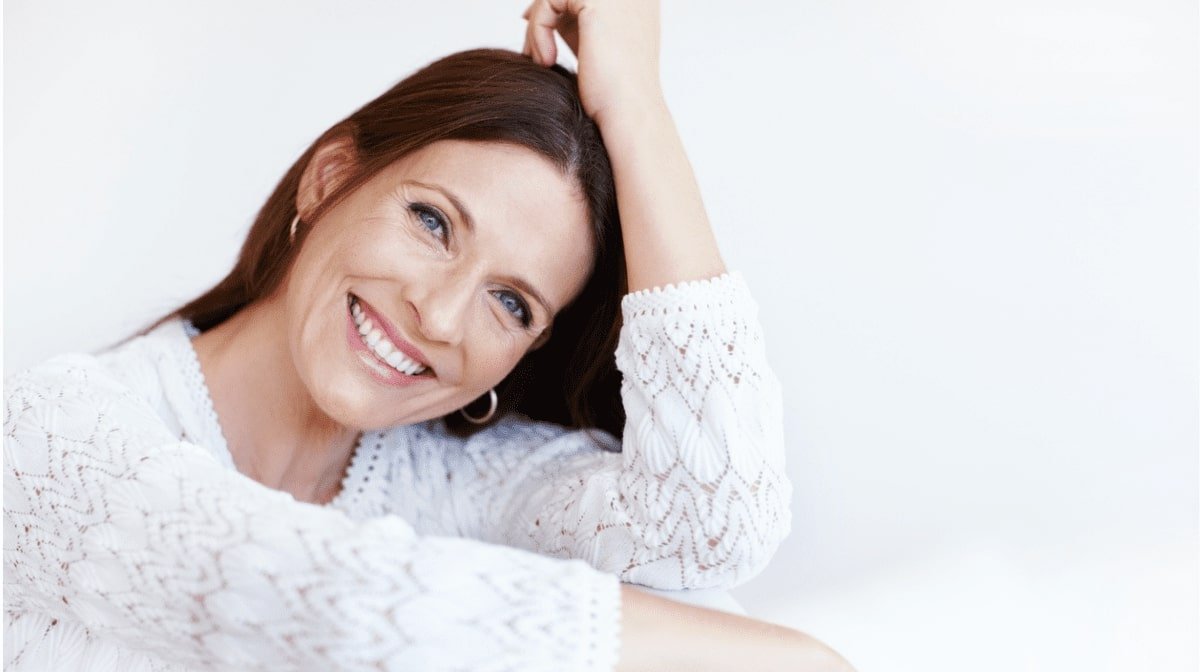 Discover why your anti-aging skincare routine should include SPF, Vitamin C, hyaluronic acid and retinol.
Eye lines
 As the skin around the eyes is thinner than the rest of the face, fine lines often appear around the eyes first – which is why so many women take early measures2 to delay or reduce the appearance of these wrinkles.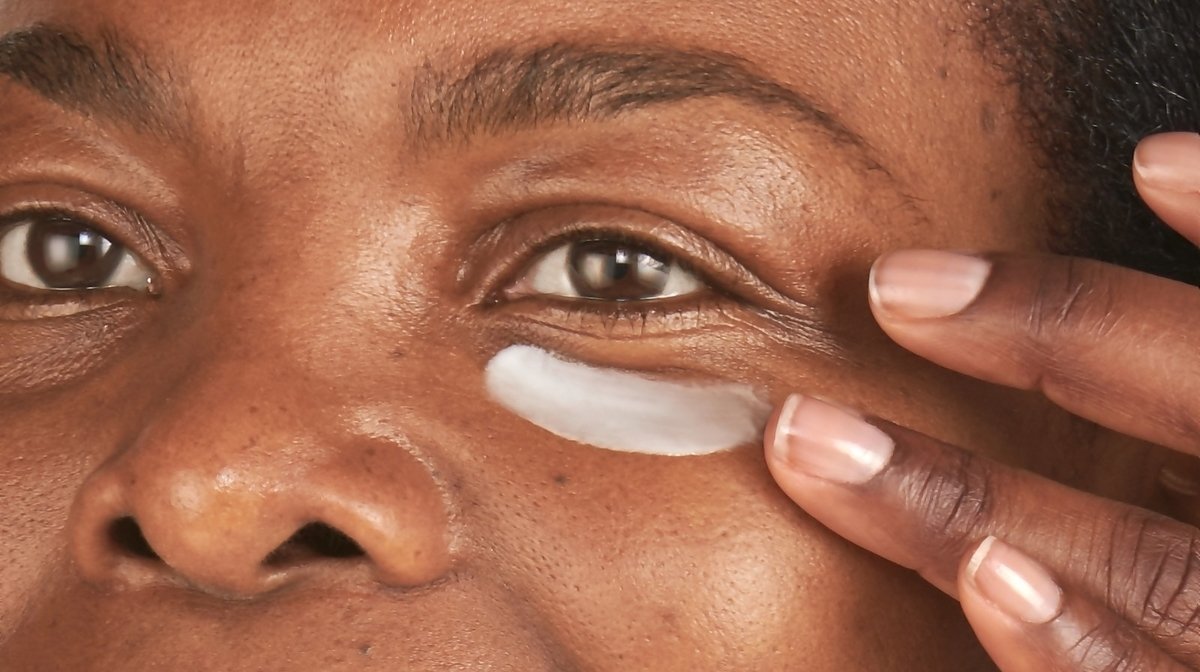 Learn how to get rid of lines under the eyes and discover the best eye cream for wrinkles.
Forehead lines
With age, the levels of collagen and elastin in the skin natural deplete, resulting in wrinkles on the forehead. Repetitive facial movements, lifestyle habits, stress, and genetics all play a role in prematurely deepening their appearance.
Smile lines
Wrinkles around the mouth (also referred to as smile lines) can add years to your appearance. Below we explain what causes wrinkles around the mouth and how to help get rid of the appearance of marionette lines, for a more youthful-looking appearance.
Dark spots
A common side effect of aging and environmental damage, dark spots can make skin look uneven. We outline how to help lighten, brighten and diminish the appearance of dark spots with 5 skincare essentials.
Neck lines
Deep‐set, horizontal neck lines and creases can add years to your appearance. Keep reading to discover what causes neck lines and how to help get rid of them, for a more youthful appearance.
Bags under eyes
 Puffy eyes are caused by an accumulation of fluids in the skin tissue around the eye area which makes the eye swell and become discolored. Here's how to soothe tired, puffy eyes.  
Dark circles
Four times more delicate than the skin on the rest of the face, the undereye area is naturally prone to hyperpigmentation and, as the skin thins with age, these dark veins and circles become even more prominent. 
*Expert research
To perform this deep dive, No7 looked at specific keyword search volumes in relation to anti-aging in the United States. These were then calculated per capita to discover the no. of average monthly searches per million people. We then ranked them to determine the top anti-aging related skin concerns for every state. Full results can be found below.
| | | | | | | | | | |
| --- | --- | --- | --- | --- | --- | --- | --- | --- | --- |
| STATE | Dark circles | Dark spots | Wrinkles | Bags under eyes | Forehead lines/wrinkles | Smile lines/lip lines | Neck lines/wrinkles | Eye lines/wrinkles | TOTAL |
| Vermont | 296 | 134 | 524 | 336 | 134 | 67 | 67 | 202 | 2258 |
| Wyoming | 277 | 132 | 487 | 277 | 119 | 66 | 66 | 184 | 2108 |
| North Dakota | 259 | 124 | 439 | 315 | 112 | 56 | 56 | 157 | 1946 |
| Hawaii | 242 | 153 | 376 | 452 | 83 | 45 | 51 | 159 | 1860 |
| Montana | 212 | 106 | 433 | 260 | 106 | 48 | 48 | 202 | 1788 |
| Delaware | 231 | 127 | 328 | 291 | 82 | 45 | 37 | 119 | 1552 |
| Maine | 172 | 80 | 362 | 245 | 74 | 31 | 31 | 123 | 1411 |
| California | 192 | 81 | 292 | 320 | 58 | 32 | 36 | 130 | 1404 |
| Conneticut | 165 | 88 | 304 | 280 | 63 | 25 | 25 | 127 | 1318 |
| Ohio | 163 | 83 | 291 | 279 | 56 | 22 | 22 | 108 | 1281 |
| Rhode Island | 174 | 79 | 295 | 226 | 63 | 32 | 32 | 105 | 1247 |
| Mississippi | 149 | 145 | 196 | 334 | 68 | 30 | 20 | 61 | 1230 |
| New Mexico | 148 | 86 | 270 | 258 | 51 | 27 | 23 | 102 | 1164 |
| South Carolina | 146 | 98 | 259 | 251 | 50 | 21 | 21 | 101 | 1131 |
| Kentucky | 168 | 100 | 217 | 94 | 37 | 102 | 45 | 80 | 1115 |
| Texas | 159 | 79 | 228 | 266 | 42 | 24 | 22 | 97 | 1112 |
| Pennslyvania | 157 | 72 | 263 | 227 | 51 | 23 | 23 | 99 | 1112 |
| Utah | 107 | 65 | 319 | 147 | 138 | 20 | 22 | 83 | 1092 |
| New York | 150 | 69 | 226 | 227 | 46 | 23 | 23 | 99 | 1078 |
| Louisiana | 145 | 105 | 228 | 266 | 40 | 20 | 20 | 91 | 1075 |
| Arizona | 130 | 72 | 241 | 243 | 43 | 26 | 26 | 102 | 1070 |
| New Hampshire | 128 | 56 | 261 | 188 | 51 | 26 | 26 | 103 | 1056 |
| Iowa | 124 | 67 | 253 | 221 | 46 | 19 | 19 | 97 | 1032 |
| Michigan | 133 | 77 | 240 | 235 | 48 | 20 | 19 | 90 | 1031 |
| Virginia | 126 | 70 | 223 | 193 | 45 | 19 | 20 | 91 | 1020 |
| Idaho | 126 | 61 | 236 | 199 | 49 | 24 | 20 | 89 | 1012 |
| Florida | 133 | 72 | 222 | 234 | 39 | 22 | 23 | 91 | 1009 |
| Massachusetts | 126 | 83 | 181 | 187 | 44 | 20 | 59 | 64 | 996 |
| New Jersey | 138 | 62 | 211 | 208 | 42 | 21 | 21 | 92 | 981 |
| West Virginia | 128 | 58 | 264 | 165 | 50 | 21 | 21 | 91 | 979 |
| South Dakota | 125 | 60 | 217 | 163 | 54 | 27 | 27 | 76 | 962 |
| Nebraska | 114 | 57 | 206 | 190 | 41 | 19 | 19 | 76 | 940 |
| Minnesota | 108 | 48 | 215 | 107 | 21 | 22 | 38 | 161 | 929 |
| Indiana | 121 | 63 | 223 | 197 | 42 | 15 | 18 | 80 | 921 |
| Maryland | 130 | 77 | 184 | 218 | 38 | 22 | 20 | 73 | 921 |
| Wisconsin | 145 | 86 | 168 | 70 | 30 | 107 | 32 | 60 | 911 |
| Arkansas | 120 | 73 | 202 | 202 | 36 | 17 | 17 | 76 | 908 |
| Alabama | 124 | 89 | 205 | 204 | 33 | 13 | 15 | 77 | 899 |
| Washington | 115 | 44 | 184 | 182 | 38 | 18 | 20 | 81 | 861 |
| Oregon | 94 | 41 | 171 | 160 | 35 | 16 | 18 | 67 | 853 |
| Illinois | 103 | 51 | 172 | 174 | 34 | 15 | 16 | 72 | 785 |
| Oaklahoma | 98 | 51 | 173 | 168 | 32 | 13 | 13 | 66 | 760 |
| North Carolina | 96 | 64 | 164 | 178 | 32 | 15 | 14 | 64 | 756 |
| Missouri | 76 | 77 | 129 | 128 | 32 | 16 | 11 | 66 | 749 |
| Tennessee | 123 | 24 | 125 | 111 | 39 | 78 | 19 | 64 | 744 |
| Georgia | 114 | 71 | 141 | 182 | 30 | 16 | 15 | 57 | 735 |
| Colorado | 77 | 41 | 165 | 154 | 35 | 13 | 16 | 69 | 711 |
| Kansas | 87 | 36 | 155 | 115 | 25 | 11 | 12 | 53 | 672 |
| Nevada | 65 | 33 | 103 | 113 | 20 | 11 | 10 | 44 | 484 |
| Alaska | 46 | 22 | 74 | 56 | 20 | 10 | 10 | 28 | 336 |
| TOTAL | 7082 | 3791 | 12048 | 10496 | 2595 | 1451 | 1304 | 4750 | |