From sunburn to melanoma, the impact the sun can have on our skin is common knowledge. However, recent data suggests that only 36.5% of US adults take preventative action and wear an SPF.
With that in mind, read on to discover why prevention is better than a cure and why you should be incorporating a moisturizer with SPF into your skincare regime every day.
What is SPF?
SPF stands for 'Sun Protection Factor' and indicates how long a product containing sunscreen can protect the skin from harmful UV rays. For example, if applied as directed, SPF 30 will keep you from burning thirty times longer than if you had not applied it.
What Are UV Rays?
UV (ultraviolet) rays are a form of radiation produced by both the sun and other sources, such as tanning beds.
Two types of UV radiation can impact skin health: UVA and UVB.
What Are UVA Rays?
UVA rays account for 90%-95% of UV radiation. They penetrate deep into the layers of your skin, with prolonged exposure causing a reduction in collagen levels which may contribute towards premature aging.
What Are UVB Rays?
UVB rays make up 5-10% of UV radiation and are absorbed by the surface of the skin. The most dangerous type, UVB is responsible for burning and the formation of precancerous cells.
Why is SPF important?
SPF protection products help to protect the skin against the harmful effects of UVA and UVB rays. They are recommended to be worn every day, even in overcast weather. Prevention is always better than cure.
What is Moisturizer With SPF?
A face cream with SPF combines the protective qualities of facial sunscreen with the hydration of a face cream, for skin that feels protected and moisturized.
To be safe, it's advised that SPF moisturizer isn't solely relied on to provide adequate protection from UV rays. An SPF face moisturizer should be used alongside a sunscreen of your desired strength.
How to Apply a Face Moisturizer With SPF
SPF moisturizer is applied the same way you would apply a regular No7 moisturizer, in five easy steps:
Step 1: Using your finger, take a dime-sized amount of the moisturizer and gently apply it to your cheeks, using light, circular patting motions.
Step 2: Apply onto the forehead, working from the brows towards the temples.
Step 3: Smooth along the jawline working from the chin to the ears.
Step 4: Apply to the neck in upward strokes, working from the décolletage to the chin.
Step 5: Once absorbed by your skin, continue with the rest of your skincare and makeup regime.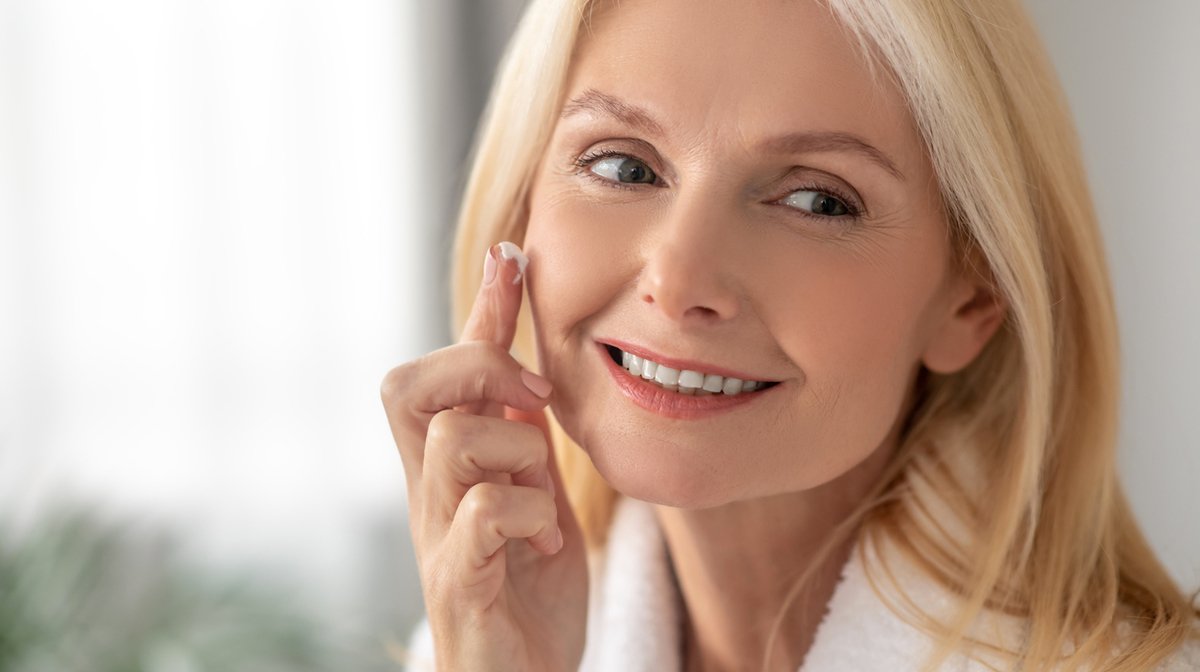 Find out when and how to apply a moisturizer for best results.
The Best Moisturizers With SPF
To protect your skin most No7 moisturizers with spf have been formulated with broad-spectrum SPF protection. This ensures that your skin is not only protected, but wonderfully hydrated for a radiant and healthy appearance.
With so many choices, we've curated a list of our favorites to help you find the best daily moisturizer with SPF for your skin's needs:
Formulated with the innovative anti-wrinkle peptide technology of Matrixyl 3000+™, this is one of the best SPF moisturizers for those looking to visibly reduce the appearance of fine lines and wrinkles.
Suitable for all skin types, No7 Protect & Perfect includes broad-spectrum SPF 30 to shield you from the harmful effects of UVA and UVB rays and support a healthy complexion.
Perfect for those with sensitive skin, No7 Lift & Luminate provides a unique blend of Emblica fruit extract and vitamin C which work to target the appearance of pigmentation leaving your skin tone more even and rejuvenated.
The best day cream with SPF, the inclusion of broad spectrum SPF and Matrixyl 3000+™, help to improve skin tone and support a healthy, plumped appearance.
Harnessing age defying collagen peptide-based technology, Matrixyl 3000+™, the best anti-aging moisturizer with SPF for mature skin is No7 Restore & Renew. Your complexion is revived, and skin looks firmed and wrinkles are visibly reduced.
The addition of broad-spectrum SPF 30 defends you against harmful UV rays, while a hydrating blend of hibiscus peptides and hyaluronic acid supports the overall look and feel of skin health.
The best SPF moisturizer for all skin types is No7 Early Defence Day Cream. A super light and non-pore-blocking day cream, combined with broad-spectrum SPF 30, helps to provide daily hydration and defense against UV rays.
Formulated with a nourishing blend of lipopeptides and vitamin A, early signs of aging appear visibly reduced to encourage a smooth and radiant appearance.
Alongside wearing a moisturizer with SPF every day, we would also recommend wearing a hat and sunglasses, as well as avoiding being outside during peak UV hours. After all, a preventative mindset will help to minimize risk to both your skin and overall health.
Discover more expert advice on caring for your complexion in our blog.
Take the No7 Challenge
We're so confident in the quality of our products that we guarantee you'll love the results – or we'll give you your money back. See https://us.no7beauty.com/no7challenge.list for details.
Discover the benefits of incorporating a moisturizer with SPF into your skincare routine.