From fine lines to wrinkles, skin aging will happen to us all, but wouldn't it be wonderful if we could improve the appearance of some of the most common signs? Well, skincare products containing peptides may be able to lend a helping hand.
You might have heard a lot about them, but what are peptides and how can they benefit the skin? Carry on reading to find out.
What are Peptides?
Peptides are short strings of amino acids that link together to form large proteins like collagen, elastin, and keratin.
In fact, studies have been conducted on how peptides are linked to improved skin structure. Although human skin naturally produces peptides, it can be supported with a good skincare regimen, consisting of products that contain peptides and other key ingredients.
Expert Tip: Peptides and proteins can easily be confused, but the simplest way to understand the difference is to think of peptides as the building blocks that make up protein molecules.
What are Peptides in Skincare?
Peptides are the building blocks of the proteins in the skin and can assist with the structure, elasticity, texture, and strength to promote a radiant and smooth complexion.
One study looking into the benefits of peptide skincare found that they may be able to improve the structure of the skin and reduce the appearance of wrinkles.
What do Collagen Peptides Do?
Collagen is the most abundant protein in the body and is thought to provide strength and structure to the skin, to improve elasticity and firmness.
As we age, collagen production within the skin reduces, which may cause sagging and wrinkles. Using skincare products containing collagen peptides may be beneficial – particularly for mature skin – as it is thought to help improve elasticity.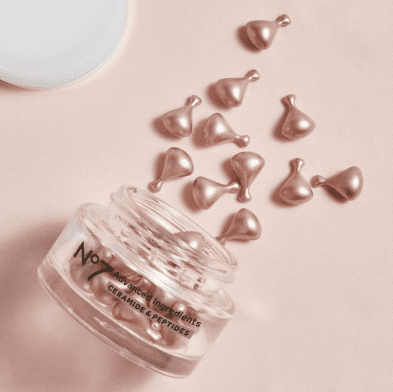 What are peptides? Find out how to incorporate collagen peptides for skin into your skincare routine.
Now you know everything there is about peptides and why you should incorporate this super ingredient into your skincare routine, check our brand-new Future Renew collection to revitalize your skincare regime.
Our Future Renew Range
Formulated with our new pepticology blend, the No7 Future Renew range contains world-first peptide technology you won't find with any other skincare product – even the ones that cost ten times more.
Working to support the skin's natural self-repair mechanism, these skincare products have been formulated to nourish and repair damage to the skin; achieving visible results within four weeks.
Here are our key ingredients that support these amazing results:
Pepticology: our unique, world-first peptide blend supports your skin's natural self-repair. Developed following 15 years of research into skin damage and repair, this peptide harnesses the skin's own natural self-repair processes to help smooth lines and wrinkles, for a firmer, more plumped complexion.
Antioxidant Blend: a concoction of vitamins C, E and mulberry extract help to protect the skin from the damaging effects of environmental stressor like pollution and UV radiation.
Niacinamide: strengthening and supporting your skin barrier, this ingredient helps to improve texture or uneven tone.
Hyaluronic Acid: hydrates and plumps the complexion by attracting and retaining moisture in the skin.
Rice Proteins: aids in preventing the breakdown of proteins within skin by protecting against the harmful impact of environmental aggressors.
No7 Future Renew Damage Reversal Night Cream
As the skin's optimal repair window is overnight while you rest, it's always super effective to opt for a night cream for the best results.
Our No7 Night Cream works to reinvigorate dry, dull skin and improve the appearance of an uneven or textured complexion. After first use, you can expect your skin to feel nourished, softer and smoother.
How to use: Apply to the face and neck every evening by massaging in using small upward circles.
No7 Future Renew Damage Reversal Eye Serum
Our eye area has some of the most delicate skin on our faces, but it is often neglected. Our No7 Damage Reversal Eye Serum is there to repair and protect the eye area for firmer-looking under eyes.
Encouraging an even tone, reducing puffiness, and improving the appearance of fine lines and wrinkles in as little as four uses, this eye serum takes a transformative approach to your everyday skincare regime.
How to use: Apply under the eyes morning and evening. Gently blend around the contours of the eye with your ring finger. Always avoid dragging or pulling the skin, this is a sensitive area.
No7 Future Renew Damage Reversal Serum
For those who prefer a serum formula, our No7 Future Renew Damage Reversal serum is a great addition to your skincare staples. Formulated to be lightweight, fast-absorbing, and non-greasy, this serum is perfect under makeup – meaning you can revitalize your skin while you go about your day-to-day.
How to use: Apply evenly over face and neck every morning and night after cleansing. If you want to nourish further, this serum works well when layered under our Damage Reversal Night Cream.
If you have decided that it's time to repair your skin and enjoy beautifully radiant skin our Future Renew range is here to help!
Want to test these products out before committing to full size? Our No7 Damage Reversal Skincare Kit allows you to try each product in our Future Renew range. So, what are you waiting for? Explore this exciting new range today.