Contouring has taken over the makeup world and we love it! Popularized by makeup artists across the globe, this technique is used to alter the appearance of your face shape. Whether it's for a special occasion or just to elevate your everyday makeup look – it can be daunting attempting a new makeup style.
But, not to worry, a beautifully-sculpted complexion is around the corner. Just follow our guide on how to contour. From product to application -our expert advice is here to help.
What is Contour Makeup?
Contour makeup products are used to help sculpt and define the complexion. When applied correctly, they have the ability to enhance, define or even create illusions on your facial features. Popular areas to contour include the nose, cheeks, forehead, and jawline.
This technique is made a whole lot easier when you have the right tools for the job, so, we've broken down a few of our go-to products for fuss-free, flawless application.
What Makeup is Used for Contouring?
Ready to master the art of contour? Here are the key contour makeup products we recommend for the best results:
Contour Stick
A contour stick is essential when it comes to contour makeup. Both buildable and blendable, a long-wearing foundation stick, is a must-have in you kit.
Combining light to medium coverage with wonderfully nourishing ingredients, a stick provides a creamy, non-drying formula that glides beautifully over the skin. We recommend going for one two to three shades darker than your foundation for the most easy-to-blend, natural effect.
Concealer
Once you have added depth with your contour stick, it's time to add some more dimension to the face. A concealer works well to lift and illuminate the complexion while adding contrast for an enhanced look.
Infused with light-reflecting pigments, our Lift and Luminate Triple Action Serum Concealer will work to minimize the appearance of fine lines and wrinkles for a youthful appearance. Formulated with vitamins A, C, and Matrixyl 3000 Plus (a powerful anti-wrinkle peptide), it will ensure the product promotes effective, long-term benefits for the skin.
Bronzing Powder
A bronzing powder is also useful if you like to set your cream products in place and add extra definition to the forehead, cheeks, and jawline.
Powder-based formulas have buildable capabilities that allow you to tailor your application to achieve your desired results. We recommend starting with a light dusting of product, before building up to a more intense pigment.
If you have a dry or combination skin type, we recommend skipping this step to maintain a radiant finish
Loose Powder
Having a loose powder on hand is always useful to set, mattify and blur your skin to maintain a fresh appearance all day. We recommend applying a dusting of a loose powder, such as our Flawless Finish Powder over all areas where concealer has been applied to ensure all-day wear.
How to Contour Your Face
Discover how to achieve the ultimate sculpted glow with our contour makeup tutorial:
Step 1: Contour Stick
Once you've finished your foundation as usual, apply the stick to the outside of the face mimicking the shape of '3', on each side of the face.
To do this, start by placing the contour stick around the perimeters of your forehead, down past your temples, curving in to follow the shape on your cheekbone, and then swipe along the jawline to ensure all areas are carved to perfection! Blend with either a makeup sponge or a stippling brush to achieve a seamless finish.
Expert Tip: Blend using upwards strokes for a lifted appearance.
Step 2: Concealer
Now to lift and brighten! Gently apply the product to the T-zone and under your eyes. To seamlessly blend the product, use either your fingertips or a precise concealer brush
Step 3: Bronzing Powder
Once you have finished with all liquid or cream products, reach for the powders.
Lightly layer the bronzing powder on top of all areas where the contour stick has been applied. This step serves to both set your cream in place and deepen and define the shadows created with the contour stick.
Step 4: Loose Powder
Once your makeup look is complete, a powder works well as a finishing touch to set any remaining areas. Focus the product where you have applied the concealer and any other areas that may get oily throughout the day.
Expert Tip: If you prefer a dewier look, you can skip out on this step and enjoy a radiant glow!
How to Blend Contour Makeup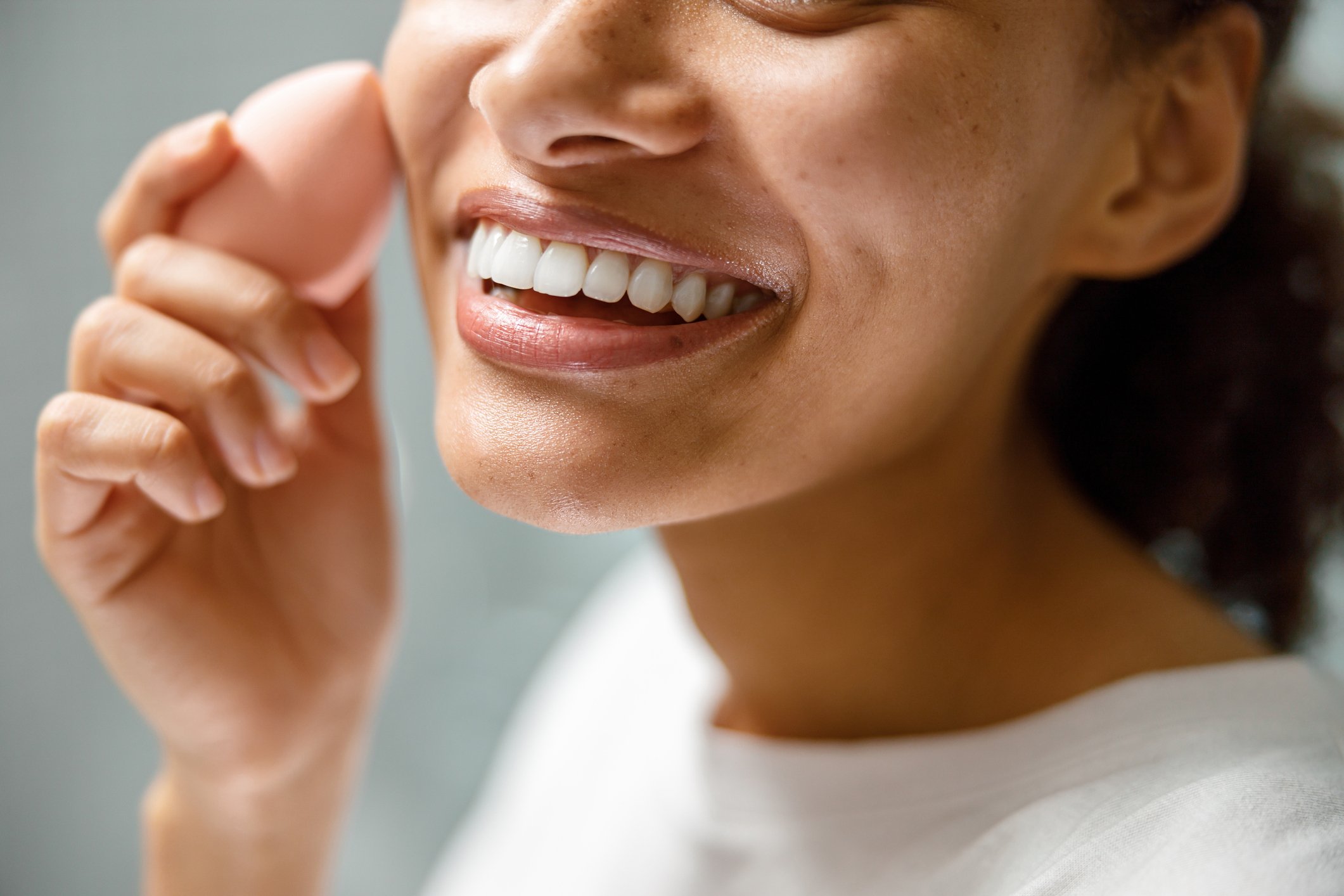 Blending contour makeup products correctly is crucial to achieving the best illusion possible. Here are a few tips and tricks for the perfect blend.
How to Blend Contour on Cheeks
Let's begin with the basics of the contour world, chiseled cheeks.
With a dense, buffing brush on hand, blend your contour using circular motions to enjoy a streak-free, flawless finish. Once all harsh lines are diminished, go over your cheeks using short, upward strokes for the most sculpted appearance.
For extra definition, lightly sweep a little bronzing powder over the top using a fluffy face brush. Build up gradually to achieve your desired look.
Expert Tip: If you have applied a little too much product, reach for a makeup sponge to remove any excess.
How to Blend Contour on Nose
For this area, we recommend using a fine brush to apply the contour shade along each side of the nose, then gently blend outwards using short, sweeping motions.
Follow up with your concealer and apply this down the center of the nose to add dimension. You can simply tap the product out using your fingertips or blend using a detailed brush.
Now you have all of our advice on how to contour, why not give it a try? With the right contour makeup products and blending techniques, you'll be able to elevate your everyday makeup look into something with a little more definition!
Discover more advice and recommendations on the blog.